Keeping Portland Weird
By: Rick Boxx
December 5, 2012
Portland, Oregon's motto is "Keep Portland Weird." They have a stated liberal bias, including an annual 'naked' bike ride with 13,000 participants.
According to Kevin and Luis Palau, for years the Christian community was disconnected from the social needs of their community. In 2008 that changed.
The church rallied 27,000 volunteers to serve Portland annually in the largest service project ever. The spiritual and physical results have been amazing! The church's mission became Jeremiah 29:7, "Seek the peace and prosperity of the city to which I have carried you into exile. Prayto the Lordfor it, because if it prospers, you too will prosper."
One of the ways our businesses, and our churches, should live out our faith is to seek the peace and prosperity of our own city.
Are you maximizing the use of your God given talents at work? Join us December 6th for our "Maximizing Your Calling" webinar to experience the joy of unleashing your potential.
Mike Frank's Prosperity with Purpose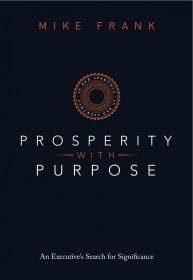 "If you are an executive that thrives on business but are thirsting for more, this book may be your story as well. I can't give you the formula for success, but I can show you how to live a life of relentless purpose…which may or may not include profound wealth". Click here to learn more.
"How well are you modeling Faith, Integrity, Relationships, and Excellence in your work? Find out by taking Integrity Resource Center's free FIRE Assessment!"
Contact Rick Boxx at www.integritymoments.org, and to learn more about Integrity Resource Center go to integrityresource.org.