A Lack of Faith
By: Rick Boxx
February 19, 2013
Former author and teacher, Larry Burkett, wrote about a friend that asked him to intervene in a situation with this man's church. In a building campaign, the church had decided to borrow a significant amount of money.
Larry's friend was willing to fund the entire project if the pastor was willing to walk in faith. Larry met with the pastor hoping to convince him to trust God for the funding rather than the bank.
The pastor doubted God would provide and refused. Disappointed in his pastor, Larry's friend, left the church and gave his large donation elsewhere.
Hebrews 11:1 teaches, "Now faith is being sure of what we hope forand certain of what we do not see."
In your workplace, do you only make decisions based on what you see?
Timothy Keller's Every Good Endeavor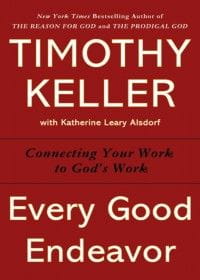 The Christian view of work—that we work to serve others, not ourselves—can provide the foundation of a thriving professional and balanced personal life. Keller shows how excellence, integrity, discipline, creativity, and passion in the workplace can help others and even be considered acts of worship—not just of self-interest. Purchase here.
"How well are you modeling Faith, Integrity, Relationships, and Excellence in your work? Find out by taking Integrity Resource Center's free FIRE Assessment!"
Contact Rick Boxx at www.integritymoments.org, and to learn more about Integrity Resource Center go to integrityresource.org.