Just Say No
By: Rick Boxx
February 27, 2013
A friend was involved in a real estate development. Although he was current on his loan, the recession had devalued his property. The bank demanded payment in full.
What it seemed they were really after was additional collateral that my friend had available personally. They wanted him to either pledge his home or some of his savings.
As my friend and I discussed his options, we also discussed Proverbs 22:26-27, "Do not be a man who strikes hands in pledgeor puts up security for debts; if you lack the means to pay, your very bed will be snatched from under you."
My friend decided to say "no." He asked the bank to stick to their original agreement. To his surprise they agreed. God provides ways to honor his principles.
Integrity Resource Center can help train your team or consult with your organization on shaping a biblically based culture. Learn more.
Stanley Tam's God Owns My Business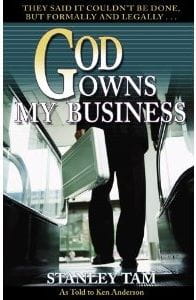 Building a multi-million dollar business with only $37.00 capital is impossible. To even hope of succeeding with a process that four other companies tried and failed is impractical. But this man did it, because he found the right answer to business success. God Owns My Business is the amazing biography of a man who built the first business of it's kind ever to succeed in the United States. Purchase here.
"How well are you modeling Faith, Integrity, Relationships, and Excellence in your work? Find out by taking Integrity Resource Center's free FIRE Assessment!"
Contact Rick Boxx at www.integritymoments.org, and to learn more about Integrity Resource Center go to integrityresource.org.