Religious Battles
By: Rick Boxx
January 29, 2013
According to a Huffington Post article, a liberally minded religious group called Faithful America boycotted Hobby Lobby. This boycott was due to Hobby Lobby's lawsuit against the government for mandating contraceptive coverage.
Hobby Lobby believes they shouldn't have to pay for drugs that cause abortion. Faithful America believes a "woman's right" to abortion trumps a baby's right to life.
In Acts 4, Peter and John were criticized by religious leaders and told to quit preaching the gospel. They responded, "Judge for yourselves whether it is right in God's sight to obey you rather than God."
When we take a stand for our beliefs, it's likely our worst enemies will be those who claim to be religious as well. Remember to be guided by God's Word and serving an audience of One.
Do you need an event speaker? Have Rick Boxx speak at your next event.
Wes Cantrell's From the Shop Floor to the Top Floor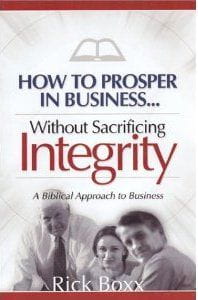 To survive long term, businesses must be profitable. You can accomplish this objective with integrity, or you can do it by whatever means you feel justifies the end, such as fraud, deceit, and ruthless business practices. Purchase here.
"How well are you modeling Faith, Integrity, Relationships, and Excellence in your work? Find out by taking Integrity Resource Center's free FIRE Assessment!"
Contact Rick Boxx at www.integritymoments.org, and to learn more about Integrity Resource Center go to integrityresource.org.