Hiring Only Christians?
By: Rick Boxx
January 31, 2013
Many leaders have asked me whether or not businesses can hire only Christians. Our laws state that it's illegal for businesses to discriminate against anyone due to their religious beliefs.
It's legal and appropriate, however, for you to share the purpose and values of your organization, and hire people who can honor and maintain those values, even if they include glorifying God through your business.
It would be unfair to both parties to hide your faith, and its importance, until after they've been hired.
Colossians 4:1 teaches, "Masters, provide your slaves with what is right and fair, because you know that you also have a Master in heaven."
If your business desires to be legal and fair in hiring, be sure to share Who you serve in an up-front manner.
Have Rick Boxx speak at your next event, click here for more information.
Wes Cantrell's From the Shop Floor to the Top Floor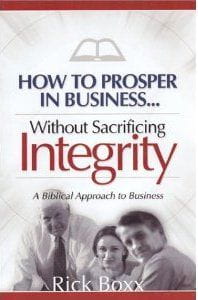 To survive long term, businesses must be profitable. You can accomplish this objective with integrity, or you can do it by whatever means you feel justifies the end, such as fraud, deceit, and ruthless business practices. Purchase here.
"How well are you modeling Faith, Integrity, Relationships, and Excellence in your work? Find out by taking Integrity Resource Center's free FIRE Assessment!"
Contact Rick Boxx at www.integritymoments.org, and to learn more about Integrity Resource Center go to integrityresource.org.