First Step Towards Forgiveness
By: Rick Boxx
June 11, 2013
Yesterday, I discussed the toxic anger I carried for more than two years against a former boss who had demoted me as retaliation for a report I issued. Every time I had an opportunity, I bad-mouthed him to others.
Years later, I was pondering Matthew 6:15-16 which says, "For if you forgive others for their transgressions, your heavenly Father will also forgive you. But if you do not forgive others, then your Father will not forgive your transgressions."
The Lord convicted me that I had not forgiven my former boss, so how could I expect God to forgive me for my many sins?
I began my road to forgiveness by asking God to forgive me for treating one of His children so poorly. Tomorrow, I'll share the rest of the story.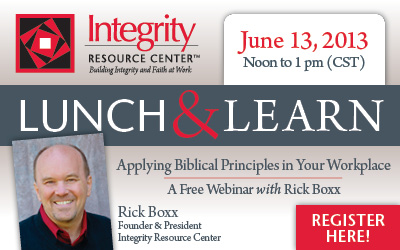 Contact Rick Boxx at www.integritymoments.org, and to learn more about Integrity Resource Center go to integrityresource.org.