Sharing Too Much
Many years ago, a bank I worked for was being sued and I was a key witness! As our attorneys prepped me for a deposition, I discerned that their advice applied to life in general.
These attorneys shared that when I was asked a question, I was to only answer the question, no more or no less. They highlighted that if I kept talking beyond what was necessary, it was likely the opposing attorney could find more ammunition to make me look foolish.
In business, I've experienced many leaders who love to hear themselves talk, resulting in their foolishness becoming evident.
Proverbs 21:23 teaches, "He who guards his mouth and his tongue, guards his soul from troubles."
If you tend to share too much, practice only answering what is asked.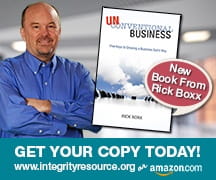 Learn more about Rick Boxx and Integrity Resource Center