Seek God First – Part IV
By:Rick Boxx
March 10, 2016
My son, Jeremy, has many quirks due to having autism, including constantly turning up the radio in the car. He persistently turns it louder, especially if I'm talking with him.
In part, his obsession with the radio is to turn up the music loud enough so that he doesn't have to listen to my questions. He has trouble communicating so he looks for ways to avoid conversations.
In our world today, many people knowingly or unknowingly turn up the noise, like my son Jeremy, making listening to God difficult, if not impossible.
Psalm 37:7 teaches, "Be still before the Lord and wait patiently for him."
One important step in seeking God first in our loud and busy workplaces is to learn to turn down the noise, be still, and listen to God.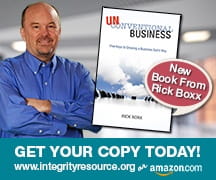 Learn more about Rick Boxx and Integrity Resource Center