Dream Big
Toby Rush, CEO of Eyeverify, recently shared about dreaming big at an event I attended. Toby has successfully launched and sold two technology companies that created innovative technology far beyond what most people could imagine possible.
Toby made a statement that reminded me of the importance of remembering that God is the ultimate Creator, and our creativity is a gift from him. Toby's statement was, "I have discovered that the closer I get to Christ, the bigger I can dream."
In Daniel 2, Daniel cries out to God for the answer to the King's dream. When God gives him the answer Daniel praises God by saying, "It is He who reveals the profound and hidden things."
If you want to have God-sized dreams for your work, draw closer to God.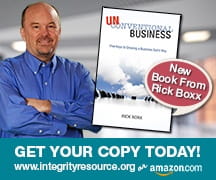 Learn more about Rick Boxx and Integrity Resource Center