Two Witnesses
By: Rick Boxx
May 24, 2013
Jonathan's boss was stealing money out of cash receipts and Jonathan didn't know how to respond. Jonathan's boss was the store manager who was considered a hero by the owner!
If Jonathan reported it to the owner, he feared losing his job if he wasn't believed. If he didn't report it, however, the company would continue to lose thousands of dollars.
After some discussion, I discovered that one of Jonathan's peers also had firsthand knowledge of the fraud.
Deuteronomy 19:15 teaches, "One witness is not enough to convict anyone accused of any crime or offense they may have committed. A matter must be established by the testimony of two or three witnesses."
We concluded that Jonathan needed to report the fraud, but ideally he should take the other witness with him.
If you need help or guidance on your business, email Rick Boxx at rboxx@integrityresource.org.
Rick Boxx's How to Prosper in Business without Sacrificing Integrity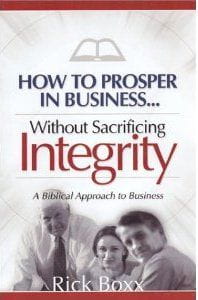 To survive long term, businesses must be profitable. You can accomplish this objective with integrity, or you can do it by whatever means you feel justifies the end, such as fraud, deceit, and ruthless business practices. Purchase here!
"How well are you modeling Faith, Integrity, Relationships, and Excellence in your work? Find out by taking Integrity Resource Center's free FIRE Assessment!"
Contact Rick Boxx at www.integritymoments.org, and to learn more about Integrity Resource Center go to integrityresource.org.