The Graduation Burden
By:Rick Boxx
May 5, 2016
As graduation season approaches, many college students may be excited about completing their education, yet anxious about the burden they now face. The Wall Street Journal claims the average college graduate is now faced with $35,000 in student loan debt!
Two decades ago less than 50% of students had debt. It's now up to 71%. Debt can crush hopes and dreams, prevent the launching of businesses, and even delay starting families.
Unfortunately, many of our young people are learning at an early age the harsh realities of Proverbs 22:7 that teaches, "The rich rule over the poor, and the borrower is servant to the lender."
If you desire the best for the young people you know, encourage them to look for creative solutions to funding college, like junior college, scholarships, or military service.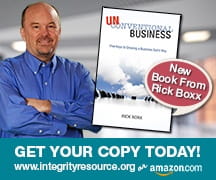 Learn more about Rick Boxx and Integrity Resource Center