Bless Our Veterans
By: Rick Boxx
November 12, 2012
Veterans Day was an expansion of what was originally Armistice Day. The original celebration was set for November 11th because the Armistice agreement that ended World War I was signed on the 11th hour of the 11th day of the 11th month of 1918.
Armistice Day was later expanded to include a celebration of all who have served our country, not just World War I veterans, resulting in a name change to Veterans Day.
Throughout history God has called people to serve as soldiers for His purpose of bringing justice to the world.
Psalm 106:3 says, "Blessed are they who maintain justice, who constantly do what is right."
Whether or not you believe in war, if you see a soldier today thank them for their God ordained calling of maintaining justice.
If you live in the Kansas City area, join us for IRC's Quarterly Luncheon on November 16: "Prosperity with a Purpose" featuring Mike Frank.
Rick Boxx's Integrity Moments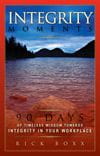 "Integrity Moments" is filled with biblical insights woven into real life stories that challenge you to be a model of integrity to your workplace. Click here to purchase
"How well are you modeling Faith, Integrity, Relationships, and Excellence in your work? Find out by taking Integrity Resource Center's free FIRE Assessment!"
Contact Rick Boxx at www.integritymoments.org, and to learn more about Integrity Resource Center go to integrityresource.org.