A Better Solution
By: Rick Boxx
November 15, 2012
Theresa began a job as a part-time employee, thinking her employer would give her a paycheck. Instead, her employer handed her cash and claimed they both could save money if neither of them reported the transaction.
Rather than risk losing her job, Theresa accepted the cash, but eventually became convicted that she needed to address the problem.
Theresa could have continued receiving cash while hoping for the best, but her integrity led her to seek a better solution. She called me, and with God's direction, we mapped out a strategy that was legal and appropriate.
Proverbs 11:3 teaches, "The integrity of the upright guides them, but the unfaithful are destroyed by their duplicity."
If you're trapped in an unethical situation, remember God can guide you to a better solution.
Mike Frank's Prosperity with Purpose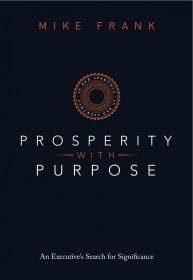 "If you are an executive that thrives on business but are thirsting for more, this book may be your story as well. I can't give you the formula for success, but I can show you how to live a life of relentless purpose…which may or may not include profound wealth". Click here to learn more.
"How well are you modeling Faith, Integrity, Relationships, and Excellence in your work? Find out by taking Integrity Resource Center's free FIRE Assessment!"
Contact Rick Boxx at www.integritymoments.org, and to learn more about Integrity Resource Center go to integrityresource.org.