A Convicted Colleague
By Rick Boxx
November 23, 2012
Paul battled with a colleague over a project. They both believed they were right and neither was backing down. The conflict impeded progress for many involved.
Paul later complained to a friend in a Bible study about his negative feelings against this colleague. His friend wisely used Psalm 15 to put Paul on the right track.
Psalm 15:1-3 teaches, "Lord, Who may live on your holy hill? He whose walk is blameless and who does what is righteous, who speaks the truth from his heart and has no slander on his tongue, who does his neighbor no wrong and casts no slur on his fellowman."
Convicted of his actions Paul went and made amends with his colleague, smoothing the way for an amiable resolution.
Do you have anyone you've slandered?
Mike Frank's Prosperity with Purpose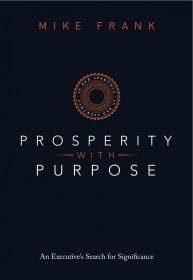 "If you are an executive that thrives on business but are thirsting for more, this book may be your story as well. I can't give you the formula for success, but I can show you how to live a life of relentless purpose…which may or may not include profound wealth". Click here to learn more.
"How well are you modeling Faith, Integrity, Relationships, and Excellence in your work? Find out by taking Integrity Resource Center's free FIRE Assessment!"
Contact Rick Boxx at www.integritymoments.org, and to learn more about Integrity Resource Center go to integrityresource.org.