Black Friday: Hope or Warning?
By: Rick Boxx
Have you ever wondered why the day after Thanksgiving is called Black Friday? According to Wikipedia, on Black Friday many retailers begin seeing black ink in their accounting ledgers, as they finally overcome their losses and begin seeing profits.
Many retail businesses I've counseled over the years have swallowed losses throughout the year with the hope that Christmas would make it all worthwhile. For some it may, but for others a profitable month may cause them to ignore the inevitable losses and increased debt January brings.
Proverbs 22:3 teaches, "The prudent see danger and take refuge, but the simple keep going and pay the penalty."
If your business model only works one month out of the year you may need to use this next month to seek refuge.
Mike Frank's Prosperity with Purpose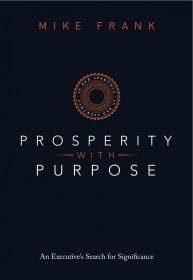 "If you are an executive that thrives on business but are thirsting for more, this book may be your story as well. I can't give you the formula for success, but I can show you how to live a life of relentless purpose…which may or may not include profound wealth". Click here to learn more.
"How well are you modeling Faith, Integrity, Relationships, and Excellence in your work? Find out by taking Integrity Resource Center's free FIRE Assessment!"
Contact Rick Boxx at www.integritymoments.org, and to learn more about Integrity Resource Center go to integrityresource.org.