Cyber Monday Crime
By: Rick Boxx
November 26, 2012
Cyber Monday, the heaviest online shopping day, uses low prices and convenience to generate millions for retailers, and exceptional deals for consumers. Cyber Monday, however, is not without risk.
With large sums involved, the criminal element is waiting to take your money. Some will use deceptive ads to infect your computer, stealing your passwords and personal information. Victims sometimes even have to pay for losses retailers incurred due to the victims stolen credit card, even though they were innocent.
King David complained in Psalm 69:4, "Those who hate me without reason outnumber the hairs of my head; many are my enemies without cause, those who seek to destroy me. I am forced to restore what I did not steal."
If you're surfing the net Monday, surf cautiously.
Mike Frank's Prosperity with Purpose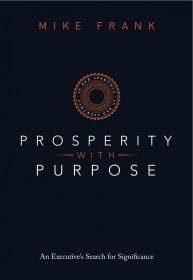 "If you are an executive that thrives on business but are thirsting for more, this book may be your story as well. I can't give you the formula for success, but I can show you how to live a life of relentless purpose…which may or may not include profound wealth". Click here to learn more.
"How well are you modeling Faith, Integrity, Relationships, and Excellence in your work? Find out by taking Integrity Resource Center's free FIRE Assessment!"
Contact Rick Boxx at www.integritymoments.org, and to learn more about Integrity Resource Center go to integrityresource.org.