A Prison Surprise
By: Rick Boxx
As I began speaking to a group of prisoners I noticed someone on the front row who looked like someone from my church. Because I was in a prison, surely I was mistaken, I thought.
At break time I discovered that, indeed, it was him. I asked if there was someway we could serve his family while he was in prison. I was pleased by his response.
"Our church has been great. They send someone every week to care for my kids so my wife can get out. It's far better than most of the guys in here have experienced."
Hebrews 13:3 teaches, "Continue to remember those in prison as if you were together with them in prison, and those who are mistreated as if you yourselves were suffering."
Mike Frank's Prosperity with Purpose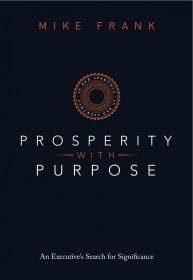 "If you are an executive that thrives on business but are thirsting for more, this book may be your story as well. I can't give you the formula for success, but I can show you how to live a life of relentless purpose…which may or may not include profound wealth". Click here to learn more.
"How well are you modeling Faith, Integrity, Relationships, and Excellence in your work? Find out by taking Integrity Resource Center's free FIRE Assessment!"
Contact Rick Boxx at www.integritymoments.org, and to learn more about Integrity Resource Center go to integrityresource.org.