The Free Gift
By: Rick Boxx
At a company Christmas party I was invited to attend, the founders presented an interactive devotional for the employees. This husband and wife had a sack of gifts for pre-selected employees.
As they passed out the gifts, and urged the recipients to open them, they were told "No." Each person declined the gift. One was too busy, another was not worthy, and one already had everything they needed.
The point this couple so creatively communicated can be summarized with Romans 6:23. Paul taught, "For the wages of sin is death, but the free gift of God is eternal life in Christ Jesus our Lord."
A gift is no good unless you accept it. If you haven't accepted God's free gift of eternal life I pray that you do this very day.
Mike Frank's Prosperity with Purpose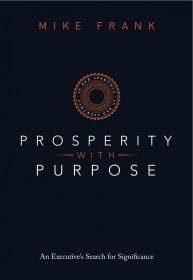 "If you are an executive that thrives on business but are thirsting for more, this book may be your story as well. I can't give you the formula for success, but I can show you how to live a life of relentless purpose…which may or may not include profound wealth". Click here to learn more.
"How well are you modeling Faith, Integrity, Relationships, and Excellence in your work? Find out by taking Integrity Resource Center's free FIRE Assessment!"
Contact Rick Boxx at www.integritymoments.org, and to learn more about Integrity Resource Center go to integrityresource.org.