The 5 P's of Ethical Decision Making – Part V
By: Rick Boxx
November 9, 2012
Lee Strobel highlighted in a talk at Woodmen Valley Chapel the 5 P's of Ethical Decision Making. The final P is Popular Opinion. He took this one in a different direction then you might expect.
Lee recommended that when you have a tough decision to make, consider what popular opinion might be and be prepared to do the opposite. God's ways are much different than our ways.
God's not concerned with popular opinion. He desires us to follow Him, not what is politically correct.
In Isaiah 55:9 God teaches, "As the heavens are higher than the earth, so are my ways higher than your ways and my thoughts than your thoughts."
Ethical decisions based on popular opinion can be disastrous. Be courageous and take God's potentially opposing path instead.
Rick Boxx's Integrity Moments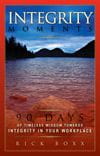 "Integrity Moments" is filled with biblical insights woven into real life stories that challenge you to be a model of integrity to your workplace. Click here to purchase
"How well are you modeling Faith, Integrity, Relationships, and Excellence in your work? Find out by taking Integrity Resource Center's free FIRE Assessment!"
Contact Rick Boxx at www.integritymoments.org, and to learn more about Integrity Resource Center go to integrityresource.org.