Caring for Yourself
Years ago, Kathy and I attended a weekend retreat designed to help identify and heal any past emotional wounds. One exercise had us pretend that we were on a ship where everyone had been infected with a deadly virus, but there were just three vaccinations.
We were to determine the best candidates to receive the three vacinations. After selecting three people, I learned the point of the exercise.
I had selected three other people, but had not chosen myself! I had placed more value on others, rather than equal value.
In Matthew 22:39 Jesus said, "You shall love your neighbor as yourself."
When you establish your priorities in life and at work, don't forget to care for yourself, so that you can be healthy enough to also care for others.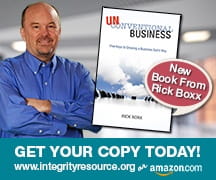 Learn more about Rick Boxx and Integrity Resource Center