Dangerous Alliances
Lucy had a new consumer product and a need for significant cash. Some investors tempted her with funding, but she feared partnering with people who don't share her faith and her passion for generosity.
After prayer and counsel, God provided a new option that still allowed Lucy to walk-out her faith without being unequally yoked.
The Apostle Paul wrote in 2 Corinthians 6:14, "Do not be yoked together with unbelievers. For what do righteousness and wickedness have in common? Or what fellowship can light have with darkness?"
God wants to have a say in our partnerships. Many business people have had their companies destroyed by being unequally yoked.
If faced with a similar choice, pray for God's solution. Then wait patiently to see how God might intervene!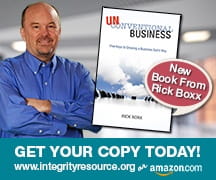 Learn more about Rick Boxx and Integrity Resource Center