Partnership Gone Sour
Years ago, two friends came in for some counsel. They desired to start a partnership to rehab houses, and they wanted to do it carefully.
Knowing that conflicts are inevitable, I recommended that they formalize a partnership agreement before buying any houses. In addition, I encouraged the two friends to address how they would handle any future conflicts.
After leaving my office, they drove by a house for sale. They bought the house without any form of partnership agreement! Months later, their partnership went sour, due to misunderstandings about their verbal agreements.
Proverbs 27:12 teaches, "The prudent see danger and take refuge, but the simple keep going and suffer for it."
If you're considering a partnership, slow down and document the agreement properly. It may save your business and friendship.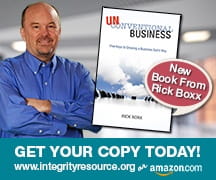 Learn more about Rick Boxx and Integrity Resource Center