This May Not Work
Sometimes Matt gets up telling himself, "This is the day I start on ………", but he doesn't.  It's not due to laziness, lack of money, or time. It's Fear. 
Matt says he's occasionally fearful that, "This might not work."  So he procrastinates, telling himself, "that he'll start on it tomorrow," hoping to muster up the courage to face the possibility of failure.
What would be an even bigger disappointment is if Matt never gives it a try, letting fear hold him as prisoner. The enemy loves to feed on our fears, keeping us distracted from our destiny.
John 10:10 says "The thief comes only to steal and kill and destroy…."
This week, give failure an opportunity.  You'll be one step closer to learning that your idea might actually work!
Today's "Integrity Moment" is adapted with permission from the writings of Matt Cline.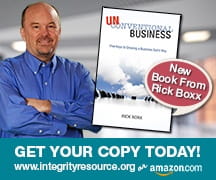 Learn more about Rick Boxx and Integrity Resource Center