Four Marketing Challenges – Part III
In my book, "Unconventional Business," I highlight four marketing challenges that many of us face in the marketplace in trying to do marketing with truth and love. The third challenge is "Purity."
The "Correct Craft" boat company realized that many of their competitors advertised their boats with sexy ads, but God led them to take a different direction.
For the sake of promoting purity, they chose not to advertise their boats with sex being prominent in their marketing efforts.
Ephesians 5:3 teaches, "But among you there must not be even a hint of sexual immorality, or of any kind of impurity, or of greed, because these are improper for God's holy people."
If you desire to please God with your business, advance purity in your marketing efforts, not sex.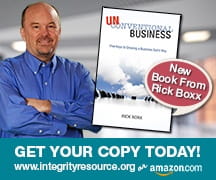 Learn more about Rick Boxx and Integrity Resource Center