October is a special month for me. The pink ribbons that seem to be everywhere remind me that I have a huge stake in the battle against breast cancer. My bride was diagnosed with HER-2 Positive breast cancer in March of 2006. She is doing very well and we are blessed that she is a three year survivor and counting.
Today I heard a song from a female country duo called Bomshel that brought back memories of that trial. The title of the song, "Fight Like a Girl", made me smile. But then I remembered the courage and strength my wife displayed during her treatment and I understood what that title means. Everytime we went for a chemotherapy session (we called it the Slow Drip Spa) I left inspired and humbled by the amazing women in that room. Bomshel's song talks about the shock of hearing that diagnosis.
Ten years of climbin' that ladder
Oh, but money and power don't matter
When the doctor said "the cancer spread"
She holds on tight to her husband and babies
And says "this is just another test God gave me.
And I know just how to handle this"
How to handle the trial was summed up with some advice her Mom had given her many years ago.
I'll hold my head high
I'll never let this define
The light in my eyes
Love myself, give it Hell
I'll take on this world
If I stand and be strong
No, I'll never give up
I will conquer with love
And I'll fight like
Like a girl
I agree that you have to stare cancer in the face and fight. But I know that my wife's strength (and her admiring husband) came from faith in a God that casts out fear as you rest in His Sovereign hand. I probably have complained more about my back aching than she has about cancer. She refused to give up without a battle because she wants to live and serve the Lord. I watched Joni take on cancer with the courage that a young shepherd boy challenged a Philistine giant. Now we have passed the three year mark, the scans have been clear and the treatments are a surreal memory.
We learned the truth of Philippians as we went throught that difficult trial.
I know what it is to be in need, and I know what it is to have plenty. I have learned the secret of being content in any and every situation, whether well fed or hungry, whether living in plenty or in want. I can do everything through him who gives me strength.
Yet it was good of you to share in (our) troubles. (Philippians 4)
We are so grateful and humbled by those of you who prayed and continue to pray for Joni. Thank you for sharing in our trial.
When she finished her treatment Joni was asked to throw out the first pitch at a Texas Ranger's Major League Baseball game.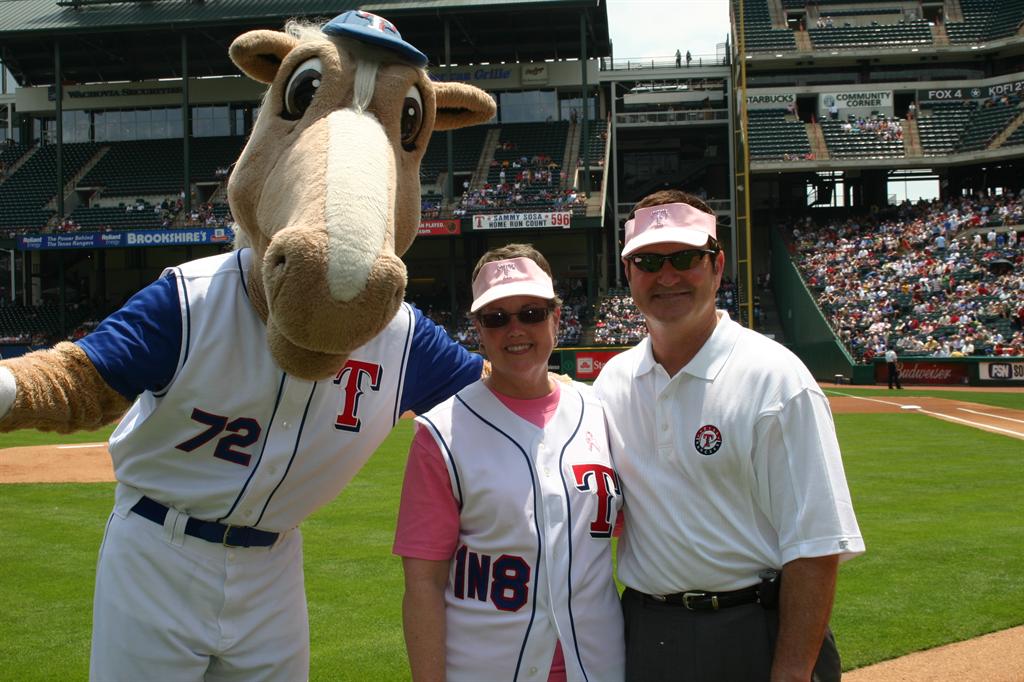 Joni with the Ranger's Mascot and dear friend and Six Time Gold Glove winning catcher Jim Sundberg (Jim is the one with the smaller nose)
Joni threw out the first pitch as a survivor! What an amazing moment for us and especially for her.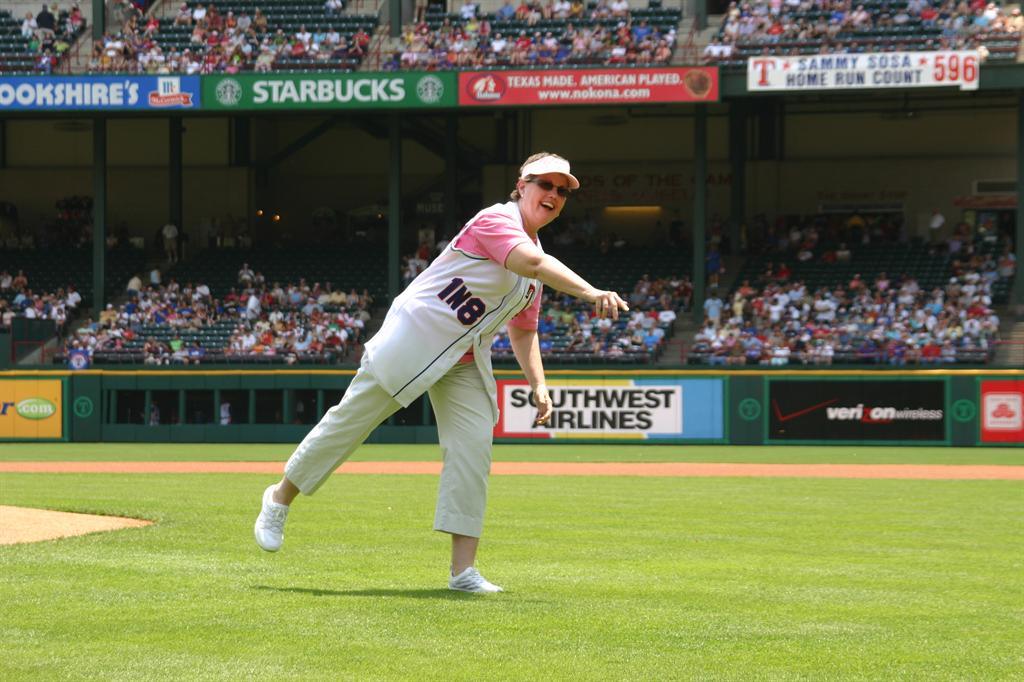 Joni displays fine form for her first pitch
Notice that her uniform number is 1 N 8. One in eight women will be diagnosed with breast cancer during their lifetime. Joni's message to any woman reading this is to get regular testing and to be persistant if you believe something is wrong. With early detection the five year survival rate is 96%! Please, please, please get your mammograms and yearly exams. But you should also know a wonderful promise if your diagnosis happens to not be positive. Many people have said that they could not have done what Joni and I have done in the past 15 months. We would have said the same thing before our cancer journey began. Here is what we know for sure. God meets you at the moment of need and provides the grace and strength you need for each moment. You can't bank it in advance. It is moment by moment as you depend on Him. You can do it. We did.
And if I ever have to face a tough diagnosis I can only hope I will have the courage to fight like this girl.
You can contribute to Susan G. Komen For The Cure by linking here and downloading "Fight Like A Girl" on iTunes.