You will know how people ought to conduct themselves in God's household, which is the church of the living God, the pillar and foundation of the truth. (1 Timothy 3:15 NIV)
In Ephesus today, the once formidable pillars of Hadrian and Artemis are no more. They are all gone. In fact, the only pillars that still stand are the pillars of truth. Your very presence testifies to the truth that Jesus Christ is died, was buried, got up, and is here right now. We serve a Living Savior. Those are the pillars, and they rest on the foundation. The truth does not rest on the church, but rather the church rests on the truth.
---
God will finish the good work He's begun in you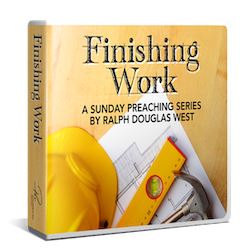 When life knocks you down, you can feel that God is a long way away.
But be encouraged – because He's right there, working in you and for you, even when you don't feel Him.
Finishing Work is a new series from Pas that takes you through the Psalms to show you that God always keeps His promises – especially His promise to complete the good work He's begun in you. And we'd love to send you a copy as our thank you for your gift today.
So request Finishing Work when you give below to help others understand that truth and hold onto God's promises too. Be encouraged!