But as surely as God is faithful, our message to you is not "Yes" and "No." (2 Corinthians 1:18 NIV)
The content of every faithful Christian message is filled with the same four primary proofs. First is the person of Jesus Christ. He alone is the embodiment of the faithfulness of God's character. Second is the preaching. The message is always a verbal communication that God is reliable. Third is the preacher. Paul says that "Jesus Christ, who was preached among you by us—by me, Silvanus, and Timothy—was not Yes and No, but in Him was Yes." Fourth is the positive nature of the message: all of them have their unity in Christ.
---
God will finish the good work He's begun in you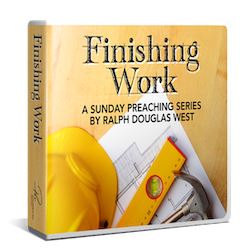 When life knocks you down, you can feel that God is a long way away.
But be encouraged – because He's right there, working in you and for you, even when you don't feel Him.
Finishing Work is a new series from Pas that takes you through the Psalms to show you that God always keeps His promises – especially His promise to complete the good work He's begun in you. And we'd love to send you a copy as our thank you for your gift today.
So request Finishing Work when you give below to help others understand that truth and hold onto God's promises too. Be encouraged!