"You shall not covet your neighbor's house; you shall not covet your neighbor's wife, nor his male servant, nor his female servant, nor his ox, nor his donkey, nor anything that is your neighbor's."  (Exodus 20:17)
How will you walk with God when your cup is full? There is a tendency to want more of what you already have enough of. This is the definition of covetousness. At the heart of the American financial crisis is an acute case of coveting another's stuff— CEO's and company presidents wanting more of what they already have enough of. We know that we, too, are as greedy as they are. There is a tendency to covet, even when we have enough.
---
Be challenged by Romans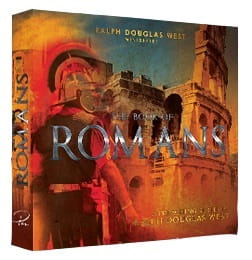 Romans doesn't let us sit still. In Romans, Paul talks about the obligation we are under to spread the truth of the Gospel and to engage with the culture around us. He talks about the journey we must make after we accept the God's gift of salvation. We are called to leave our comfortable and easy corners and spread the message of Christ's sacrifice to everyone around us, because we have been freely justified!