"At twilight you shall eat meat, and in the morning you shall be filled with bread. And you shall know that I am the LORD your God." (Exodus 16:11b)
When God supplies our need, He exceeds what has to be done. Take a look at creation and you'll see the consistency of God's abundance:
• He creates a mountain, and that's enough. Then He puts snow on the mountain.
• He creates a bird, and that's enough. Then He creates a peacock.
• He creates the galaxy, and that's enough. Then He creates the Orion Nebula.
Look around and witness God's extravagant extras in your life. This why we shouldn't complain against God. We have enough, and still God gives us His extravagant extras.
---
Be challenged by Romans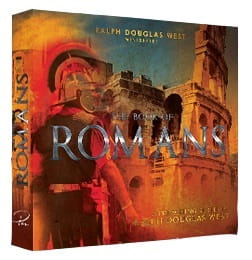 Romans doesn't let us sit still. In Romans, Paul talks about the obligation we are under to spread the truth of the Gospel and to engage with the culture around us. He talks about the journey we must make after we accept the God's gift of salvation. We are called to leave our comfortable and easy corners and spread the message of Christ's sacrifice to everyone around us, because we have been freely justified!