So he looked and behold, the bush was burning with fire, but the bush was not consumed.   (Exodus 3:2b)
Here the supernatural God enters into the lower natural creation and burns within a humble bramble bush without burning it up. Moses could not help but compare himself with that bush. Forty years earlier he had tried to burn for God and had just burned himself out. Now, at the end of his life, he discovered that God can burn in a man's life—and not burn him out. God burned in him before Pharaoh's court, marching through the Red Sea, and over the desert without burning him out. Such will He do with us if we allow Him.
---
Be challenged by Romans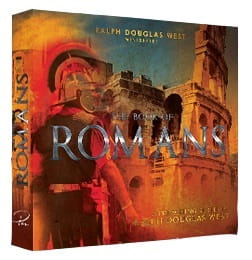 Romans doesn't let us sit still. In Romans, Paul talks about the obligation we are under to spread the truth of the Gospel and to engage with the culture around us. He talks about the journey we must make after we accept the God's gift of salvation. We are called to leave our comfortable and easy corners and spread the message of Christ's sacrifice to everyone around us, because we have been freely justified!