August 31
What Will Your Story Tell?
"And He said to me, Write' Blessed are those who are invited to the marriage supper of the lamb.' And He said to me,' these are the true words of God.'"
Revelation 19:7 & Revelation 19:9
THE STORY YET UNTOLD
There is a story yet untold and the author Lord's is You
What will You make of my life and with it what will You do
In the deepest part of my heart, You've penned love's sweetest song
It's the story of our journey, to be sung through eternity long
I know not where this journey will take me or what the future will hold
Abandoned at Thy feet I lay, for the story yet untold
Be Thou my vision precious Lord, until eternity slips into view
Herald our song at the portals of Glory, for it will lead me home to You
When the story is told, I'll have no regrets for what I have done
For it will be Heaven's crown of glory, my love song for Thy Son
What will your story tell? How will the lines read when they are seen by eyes of holiness? Do you believe your story is finished? Where will your story end? Our story is unique from everyone else and no one can write upon ours, change it, take away from it or add to it. It is our story, our heartbeat of the days of our lives. We pen the words upon each page, and secure the thoughts with every passing line. Page by page, the Master turning each one, following along as I travel the way. Unless we intentionally remind ourselves that our lives are being recorded for eternity, we can easily forget in the everyday moments that life steals away from us.
We must choose to live for the story line of our life because our story is really all we have. Our story will follow us on into Heaven. In fact it's the only thing that will. Whatever is upon our pages, good or bad, God can use every one to bring glory to His name. Only He can do such a thing! Your story will be told, along with mine and every other Christian who has ever existed. Even now, your story is being penned. Today's entry will be secured upon the parchments of time for this day. It's a reality we would do well to learn and keep close to our hearts. And when your time comes and you step up the podium in glory, what will your story tell?
Write the ending and follow its leading all the way home.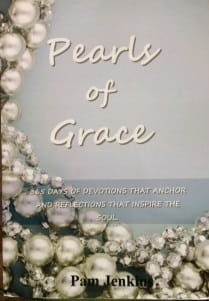 Pearls of Grace Devotional Book
Pearls of Grace is a book of devotions for the entire year, including a read through the Bible in a year calendar, broken down for every day. Beautifully written with encouraging words of hope and empowering words of joy and strength for every woman. Pam draws from the truth and richness of God's Word and gives real life examples in her down to earth style. A must have in your library, click here for more information.
For more from Pam Jenkins and Jabbok Ministries, please visit www.jabbokministries.com!
Listen to Pam Jenkins's daily broadcast on OnePlace.com.