January 6
The Shepherd of My Life
"…The God before whom my fathers Abraham and Isaac walked, the God who has been my shepherd all my life to this day, the angel who has redeemed me from all evil…"
The life of Jacob is one of the most powerful testimonies of grace and resiliency in the pages of the Old Testament. When you first meet Jacob he is grabbing hold of his twin brothers foot while coming out of his mother's womb! Therefore, his name means "heel catcher, deceiver or fraud". From the very beginning Jacob wanted to have his blessings his way even if meant lying and cheating to get it. He wanted to be first, better and greater than his brother Esau and in the end that drive for success would cost Jacob 20 years of separation from his family. It was 20 years of running and hiding out from his brother who was bent on killing him for the evil things he had done. We never bargain on what our sins will cost us when we step up to purchase them. It's strangely understood that even though we know that sin is going to cost us and we willingly agree to pay it, we're always shocked when the bill comes due!
Jacob was no different. In Genesis Chapter 32 we read the account of Jacob at the Jabbok River left alone in the dark of night. He was headed back home after all those years of running. He had to come face to face with his past in order to secure his future and this meant acknowledging just how much his sins had cost him and the potential it had to destroy his future. Jacob knows that it could cost him his very life because of his brother Esau's hatred for him, but he also knew that God must be obeyed. Jacob was no longer the selfish brother out to get things his way. God had done a deep work in the heart of Jacob but even though the work had been done, there was still an even greater work yet to be accomplished. There was amends to make with family and a past to relinquish into the hands of God. But there were even greater battles ahead to surrender; greater than this one with his brother Esau.
Jacob would end up losing his son Joseph for many years and even for a time lose his youngest child Benjamin. But in the end Jacob is gathered together with all of his sons and before his home going, we hear this great patriarch speaking these words; "God who has been my Shepherd all the days of my life and the angel who has redeemed me from all evil…" Even though Jacob had been a scoundrel; though he had cheated, lied, deceived and lived selfishly for many years of his life he had come to understand that even on his worst day, God had still been his Shepherd. When Jacob had failed to be the sheep, God never quit shepherding. Why? Because God loves us when we are at our darkest!
We have a God who is faithful even when we are unfaithful. His love is so relentless, so heart strong and committed that He will never loosen His grip upon us. Sometimes it takes years separated from our failures to bring us to a place where we are ready to surrender the whole of us to God. No matter what is found on the road of our past, God has guided us safely through and will lead us on into the land of plenty, just as He did Jacob. God never quits on us and He absolutely will never fail to keep His promises even when we fail to keep His. When Jacob is dying, he wants his sons to know that he has only come to this blessed ending of his life because God was his end. And when God is our end, our past can never rob us of our future! This sends even our greatest fears fleeing into the shadows of defeat.
NEVER FEAR THE DAY YOU HAVE NEVER SEEN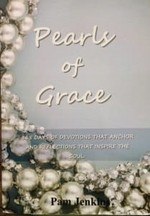 Pearls of Grace Devotional Book
Pearls of Grace is a book of devotions for the entire year, including a read through the Bible in a year calendar, broken down for every day. Beautifully written with encouraging words of hope and empowering words of joy and strength for every woman. Pam draws from the truth and richness of God's Word and gives real life examples in her down to earth style. A must have in your library, click here for more information.
For more from Pam Jenkins and Jabbok Ministries, please visit www.jabbokministries.com!
Listen to Pam Jenkins's daily broadcast on OnePlace.com.