March 13
Abundance of Praise
"From the rising of the sun unto the going down of the same, the LORD'S name is to be praised."
The word for praise, as used in Psalm 113:3 means: to boast in, to act madly, to shine, to flash forth light or to act a fool over. King David once danced down the streets of Jerusalem in praise to what the LORD had done and his wife was totally embarrassed by it! David praised the Lord without restraint, with no worries of what anyone thought; he flashed forth light and let loose in the city streets, and he had no regrets when he was finished. Praise is liberating when we allow it to jump up within us and release into outward expression. From the time the sun begins to rise from its slumbering state until it begins its journey back down. we are to praise the name of the LORD. Praise is to be part of our entire day, from beginning to end, praise for the LORD that is. In fact, we are to start our day with praise for the Lord and we are to end it in praise for the Lord. Whatever happens within our day, praise can and should always follow.
Have you ever been in a crowd when something wonderful happened like a touchdown, a goal, a homerun with bases loaded, the end of a great show or play and hear the crowd erupt with loudest praise? It's exhilarating to say the least and more than that its contagious! When praise erupts, no complaints are heard, no plans are made, no phone calls taken, no worries welling up, anger subsides, dismal situations fade into the noise, and all is right with the world for that brief moment of celebration. Praise led the way for the army of Israel in many a battle! Praise is God's timeless gift to His children whereby we can minister to Him every day. Praise ministers to the heart of God because it recognizes who He is! When is the last time you spilled over with praise for God, uninhibited? Praise releases us from our surroundings, beloved, because it silences the world.
Praise for God will remove obstacles, defeat the enemy, rebuke fear, silence unbelief and send demons trembling! Start your day with praise for the Lord because He's worthy and as the sun is setting on your day, praise Him just the same! He's worthy, beloved. When you don't know what to do, praise Him. When you don't know what to say, praise Him. When you don't know how, when or why, praise Him! Praise is your instrument to play before God. May you pick it up today and play it loudly!
Praise Him Madly.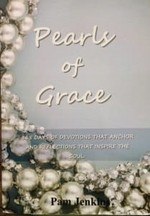 Pearls of Grace Devotional Book
Pearls of Grace is a book of devotions for the entire year, including a read through the Bible in a year calendar, broken down for every day. Beautifully written with encouraging words of hope and empowering words of joy and strength for every woman. Pam draws from the truth and richness of God's Word and gives real life examples in her down to earth style. A must have in your library, click here for more information.
For more from Pam Jenkins and Jabbok Ministries, please visit www.jabbokministries.com!
Listen to Pam Jenkins's daily broadcast on OnePlace.com.