March 6
Crucified with Christ
"For I have been crucified with Christ; and it is no longer I who live, but Christ lives in me; and the life which I now live in the flesh I live by faith in the Son of God, who loved me, and delivered Himself up for me."
To journey to the cross of Calvary through the pathway of our mind we search for a hill, a hill carved out before time began marking the very place where the Son of God would die for the sins of the world. Leading us to this holy place is the pathway of suffering stained by the blood drops of the precious Lamb of Glory. With every step we feel the agony of soul knowing that a painful death awaits Him. The weight of the cross is bearing down upon His bleeding back and the loss of blood is taking its toll. Suddenly Jesus collapses and someone is summoned from the crowd to come and lift the cross from His battered body. As we bend low to the ground we cannot recognize our precious Savior; they've beaten Him so badly. Tears begin to flow from our eyes as the sight of His pain pierces to the very core of our soul. Our heart grows heavy as we follow onward.
It's a long journey up to the place of death yet, Jesus stays the course, knowing for this He was born. They drive spikes through His hands and His feet before lifting up the cross to its final resting place. He makes not a sound, like a sheep to the slaughter. He doesn't struggle or put up a fight. His footsteps find beneath them the imprint of destiny. Jesus carries not only the cross, but the sorrows and sins of the world. We stand in reverential awe as we gaze upon the One, high and lifted up for us. But there is someone hanging upon that cross with Him; He is not alone in His death. The face is familiar, drawing near the face is now recognizable; it's me, and it's you, precious one. He took our life and placed it upon the cross with Him so we would forever be free from sin and its penalty.
We do not have to die for our sins any longer, beloved, for we have been crucified with Christ upon the cross of Calvary. We no longer need to fear death for we have already died and sin has no power over our flesh because it is dead! He who has died no longer lives but rather the One who rose from the dead is alive in us! A. W. Tozer said, "People who are crucified with Christ have three distinct marks: They are facing only one direction, they can never turn back, and they no longer have plans of their own." Have you died to self that Christ might live in you? There is only one who will be found living within us; God longs for it to be Jesus.
Don't look for me among the land of the living.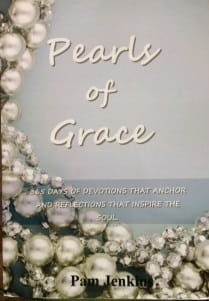 Pearls of Grace Devotional Book
Pearls of Grace is a book of devotions for the entire year, including a read through the Bible in a year calendar, broken down for every day. Beautifully written with encouraging words of hope and empowering words of joy and strength for every woman. Pam draws from the truth and richness of God's Word and gives real life examples in her down to earth style. A must have in your library, click here for more information.
For more from Pam Jenkins and Jabbok Ministries, please visit www.jabbokministries.com!
Listen to Pam Jenkins's daily broadcast on OnePlace.com.