November 17
Faith empowered or Fear enslaved?
"…but showing all good faith so that they will adorn the doctrine of God our Savior in every respect."
Faith is the adornment of doctrine in the life of every follower of Jesus Christ; it's the cloak of truth. Living the Christian life day to day brings with it a variation of challenges and people. Choosing to believe and obey God's Word or His leading,, will empower us to face any and every situation and person, no matter how difficult they may be. Faith empowers us to walk with God, pleasing Him in all things simply by choosing to trust Him; to believe Him. Believing in God and believing God are two different things. Our enemy understands this truth all too well. He will often attack our believing God, rather than, our belief in God because he knows this is where true spiritual power and purity comes from. His weapon of choice; FEAR. Fear stifles faith and breeds mistrust. The greatest enemy of faith is not our circumstances and it's not people; it is fear. When faith is lacking, fear will thrive and just like faith, when given attention, it will increase; it will grow. Fear is never idle but, neither is faith.
Often times we allow others to intimidate us into doing things that we know God has not told us to do, because our faith is weak or even nonexistent. It's vital that we check our motives, our purpose in why we do what we do; is it people driven, guilt driven, flesh driven or is it God driven? We must guard our choices, our actions with the weapon of faith; that shield of faith, as spoken of by Paul, in Ephesians 6:16; "In addition to all, taking up the shield of faith with which you will be able to extinguish all the flaming missiles of the evil one". That mighty shield of faith is the protecting power of God for the life of His children. We are to take it up and set it before us so, all our eyes see is that shield inlaid with faith and trust for God and Who He is. The enemy cannot penetrate true faith!
I Believe You God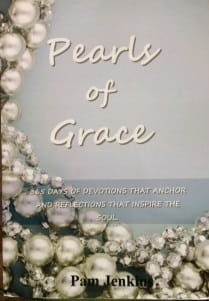 Pearls of Grace Devotional Book
Pearls of Grace is a book of devotions for the entire year, including a read through the Bible in a year calendar, broken down for every day. Beautifully written with encouraging words of hope and empowering words of joy and strength for every woman. Pam draws from the truth and richness of God's Word and gives real life examples in her down to earth style. A must have in your library, click here for more information.
For more from Pam Jenkins and Jabbok Ministries, please visit www.jabbokministries.com!
Listen to Pam Jenkins's daily broadcast on OnePlace.com.