November 25
Immoveable
"For as many as are the promises of God, in Him they are yes; therefore also through Him is our Amen to the glory of God through us."
Did you know that God is the ultimate promise keeper? He has never broken a promise that He has made and He never will. He is completely trustworthy and we never need to worry or wonder if He will keep His word. Unlike ours, God's very nature is truth because, He cannot lie. Therefore, everything that God speaks, or does, is always laid upon the foundation of truth itself. It is sure and it is the one truth that you can put your complete hope in and never be disappointed. You and I can never and will never change Who God is. His character toward us is never based upon our performance or lack of! Because of this, beloved, we can remain unmoved in any situation that succumbs us, each trial, any disappointment, every challenge and emotion that overtakes our lives. He is the unchangeable, mighty, prevailing, trustworthy, Holy God and He is our Father Who loves us with an everlasting love.
Our lives will never be greater than Who God is, and because of Who He is, our lives never have to be weak and frail! The only desperation in the life of God's children should be for more of Him. When we are faced with situations that are greater than we are, stronger than our abilities to handle, more powerful than our heart can endure, we can stand with all the confidence of Heaven and boldly say: "I will not be overcome because God is able, all His promises are yea and amen and upon these I will rest and not be moved". Real Christian living begins right here at this point of acknowledging Who God is and living every day in the light of it. Remembering Who God is must become like breathing; it's instinctive, because we will die apart from it. Until the promises of God become our life's constitution, pledging our allegiance unto the maker Himself, we will not begin to truly live the triumphant Christian life.
If we want to be unshakeable women then we must place our trust in that which is unshakeable; God. Listen, precious daughter, you can be secure, settled, cemented into Him no matter what torrent of events assail your life, because, He is your God and you are His child. The problem lies in where we lay anchor! Our flesh anchors in, by default, our dependence upon self, others, our jobs, talents, plans and positions. All of these will fail us at one point and time and usually many times over. Where is your trust today; to whom are you looking; where is your gaze fixed precious one? Unless it is fixed upon the One Who is the author and perfector of our faith, then we have no hope. Look to Him who is able, unfailing and willing! His promises will never fail you. Trust God today in all things.
My God Is Able, Therefore I will Fear No Evil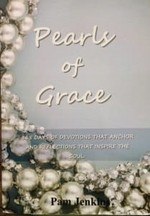 Pearls of Grace Devotional Book
Pearls of Grace is a book of devotions for the entire year, including a read through the Bible in a year calendar, broken down for every day. Beautifully written with encouraging words of hope and empowering words of joy and strength for every woman. Pam draws from the truth and richness of God's Word and gives real life examples in her down to earth style. A must have in your library, click here for more information.
For more from Pam Jenkins and Jabbok Ministries, please visit www.jabbokministries.com!
Listen to Pam Jenkins's daily broadcast on OnePlace.com.