Week 14
Defined by Sin? Thank God, No.
God made him who had no sin to be sin for us, so that in him we might become the righteousness of God. 2 Corinthians 5:21
One of the best things about accepting Christ is that believers are called "the righteousness of God." What an honor! We don't have to define ourselves by anything else. That means I don't define myself by accomplishments—I'm not primarily a wife and mother, nor primarily a former governor and the first female GOP candidate for vice president. Nor am I defined by failures— like, say, the first female GOP candidate for vice president to lose. I am especially grateful to not have to define myself by sin. Rosaria Butterfield, a Christian author and speaker known for her exceptional conversion story, wrote, "Remember sin is not ever 'who you are' if you are in Christ. In Christ, you are a son or daughter of the King; you are royalty. You do battle with sin because it distorts your real identity. . . ."
Sweet Freedom in Action
With the Gospel, we can all have the secure privilege of finding our identities in Christ alone.
---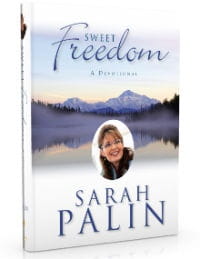 In Sweet Freedom, Sarah Palin invites you to draw strength and inspiration from 260 meditations based on guiding Biblical verses. You are not alone in your doubts and anxieties—we all bear the burdens of everyday stresses, and for most of us, our concerns spread beyond our selves to our families, communities, and country. But Palin shows that with abiding faith, and by opening ourselves to the truths that have saved mankind for generations, we can thrive—and experience true freedom.