Sports Are a Metaphor
And let us run with perseverance the race marked out for us.
A favorite writer of mine, Dr. George Sheehan, was a runner. He explained how in an endurance race, cheering supporters can ease your way. Just when things seem like they're at their worst and you're going to die, you round the corner, and maybe someone's there cheering you on.
But that's not where you show what you're made of. Real "inner strength" shows up when no one's looking, when no one's cheering.
To reach your goals in all things, you must put in tough, drudging, thankless, lonely miles. God urges us to do it even when it's hard. Especially when it's hard! He promises that when it seems like you can't take another step, there's a hidden reservoir of strength to draw upon to endure and finish well. Some call this personal resolve. I call it an appreciated free gift of the Holy Spirit. Whatever you call it, it resides in all of us. When you need it most, it will be there.
When you reach a goal, be it in sports, business, or family, it makes you stronger and it is satisfying, especially if it was achieved amid particularly tough circumstances. Margaret Thatcher said, "Look at a day when you are supremely satisfied at the end. It's not a day when you lounge around doing nothing; it's when you've had everything to do and you've done it."
Sweet Freedom in Action
Today, push yourself! Exhaust yourself. There is great joy in finding out what you're made of! God blesses your effort, especially if you go the extra mile.
---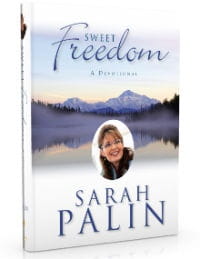 In Sweet Freedom, Sarah Palin invites you to draw strength and inspiration from 260 meditations based on guiding Biblical verses. You are not alone in your doubts and anxieties—we all bear the burdens of everyday stresses, and for most of us, our concerns spread beyond our selves to our families, communities, and country. But Palin shows that with abiding faith, and by opening ourselves to the truths that have saved mankind for generations, we can thrive—and experience true freedom.