Week 47
Be a Water Walker
"Come," he said.
This is an amazing account of a miracle, when the disciples of Jesus went out onto the water while Jesus was on a mountainside praying. Night fell, and the winds and waves buffeted the boat. I'm sure they were afraid.
Just before dawn, Jesus left the mountain and went out to the boat. He didn't swim. He walked. You may have heard this as a child in Sunday school, but try to hear it anew. He walked on water. Not frozen Lake Lucille outside my window, which allows you to walk on it easily half the year, we're talking a thawed surface—the Sea of Galilee!
"It's a ghost!" the disciples shrieked. Jesus identified Himself and tried to calm them.
"Take courage. Don't be afraid!"
"If it's you," Peter said, doubtfully, "tell me to come to you on the water." Okay, Jesus replied. "Come."
Peter's first steps were filled with awe and confidence as he kept his sights ahead—on Jesus. But then, analogous to many of our lives, Peter lost focus and looked down. He saw the storm. Overwhelmed by the sight of the waves and the wind, he began to sink. Taking his eyes off the prize, in his descent it was only Jesus, ever loving, ever forgiving, who could reach down and pull him to safety.
Sweet Freedom in Action
Today, you'll face situations requiring big faith to step out. Walk to the prize by keeping your head up, focused on the Lord's outstretched hand to help you. Be a water walker.
---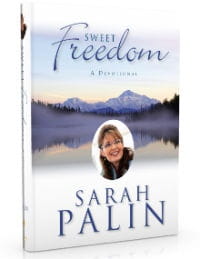 In Sweet Freedom, Sarah Palin invites you to draw strength and inspiration from 260 meditations based on guiding Biblical verses. You are not alone in your doubts and anxieties—we all bear the burdens of everyday stresses, and for most of us, our concerns spread beyond our selves to our families, communities, and country. But Palin shows that with abiding faith, and by opening ourselves to the truths that have saved mankind for generations, we can thrive—and experience true freedom.