Week 5
He Can Lead a Horse, and Us, to Water
He leads me beside quiet waters, he refreshes my soul. Psalm 23:2–3
Sometimes it feels like something's wrong with you if you aren't eternally optimistic. We have so many blessings here that you feel guilty if pessimism overcomes you. But even David, described as a "man after [God's] own heart" (1 Sam. 13:14), had a soul that needed God's attention. You've probably heard the Twenty-Third Psalm countless times. But really hear for the first time this amazing truth: God led David's tired, thirsty soul to the water to refresh it!
The Bible is full of people who struggle with being down and out; who struggle with sadness, hopelessness, feeling insignificant. I love it because we can relate. What I love even more is: God takes those struggles seriously. He heals. He restores. He wants to lead us to reviving waters; we just have to follow!
Fellow Americans, if you need restoration of the soul, you have come to the right place. No, not to a little devotional book that I'm sitting here writing from my desk in Alaska. Instead, you're going to God.
Sweet Freedom in Action
Today, write down the things that are discouraging you. Then, fold up that paper and give those things to God. I do it, using the paper like kindling in my fireplace on frozen winter nights. Only He can refresh and warm your soul, so quit trying to do it on your own!
---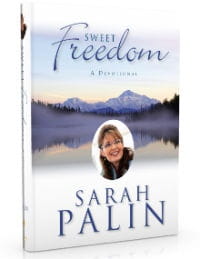 In Sweet Freedom, Sarah Palin invites you to draw strength and inspiration from 260 meditations based on guiding Biblical verses. You are not alone in your doubts and anxieties—we all bear the burdens of everyday stresses, and for most of us, our concerns spread beyond our selves to our families, communities, and country. But Palin shows that with abiding faith, and by opening ourselves to the truths that have saved mankind for generations, we can thrive—and experience true freedom.