Week 4
This, Then, Is How You Should Pray
Jabez cried out to the God of Israel, "Oh, that you would bless me and enlarge my territory! Let your hand be with me, and keep me from harm so that I will be free from pain." And God granted his request.
 -Chronicles 4:10
When the bestselling book The Prayer of Jabez came out, people began praying the age-old prayer that Jabez uttered long ago. Imme- diately, as sometimes we do over anything that is popular, some Christians didn't like the fad or trend. They said it's not best to simply repeat the words that someone else prayed, and some even insisted it's "not scriptural" because God wants us to pray from the heart, rather than repeat set words.
Whatever. If your heart is in the words, there's nothing wrong with a convenient recitation. God actually gave us a prayer to repeat so He can't be against such a thing. His was the ultimate prayer to emulate—the Lord's Prayer. In Matthew, Jesus says, "This, then, is how you should pray," before going into the Lord's Prayer. That's good enough for me.
When you recite the Lord's Prayer, you're connecting to God for sure. But you're also connecting to thousands of years' worth of believers who have said the same words all over the globe in all kinds of circumstances. It's a privilege to be a part of that.
Sweet Freedom in Action
Today, if you haven't already, memorize the Lord's Prayer. Recite it; say it with the kids before they go to bed; even include what I have with my own family—reciting the Prayer of Jabez for good measure.
---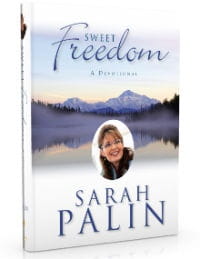 In Sweet Freedom, Sarah Palin invites you to draw strength and inspiration from 260 meditations based on guiding Biblical verses. You are not alone in your doubts and anxieties—we all bear the burdens of everyday stresses, and for most of us, our concerns spread beyond our selves to our families, communities, and country. But Palin shows that with abiding faith, and by opening ourselves to the truths that have saved mankind for generations, we can thrive—and experience true freedom.