Week 27
Put Up Your Dukes
Fight the good fight of the faith. Take hold of the eternal life to which you were called when you made your good confession in the presence of many witnesses. 1 Timothy 6:12
In polite society, people don't like to think about "fighting." Instead, they tend toward dialogue and conversation. The mellow mantra is, "Don't get angry, don't get riled up. Use your words." Oh, kumbaya. Notice the language above. "Fight the good fight of the faith." Don't dialogue it. Don't talk about it. Don't blog it. Fight for it! What does that mean? It's pretty simple. Know what pleases God, and stick with those convictions. Never allow fear or intimidation to cause you to back down from what you know is right. Sure, standing up for what we believe in comes with costs. We might be rejected socially for violating political correctness. We might be punished for things like displaying the American flag where someone doesn't like it. Or we might be sued for exercising our First Amendment rights to freedom of conscience and religion. But remember that the Lord rewards every man for his righteousness and his faithfulness (1 Sam. 26:23).
Sweet Freedom in Action
Today, put up your dukes and decide to fight for your faith.
---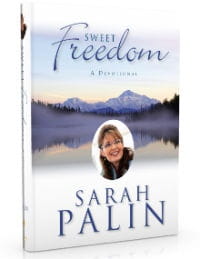 In Sweet Freedom, Sarah Palin invites you to draw strength and inspiration from 260 meditations based on guiding Biblical verses. You are not alone in your doubts and anxieties—we all bear the burdens of everyday stresses, and for most of us, our concerns spread beyond our selves to our families, communities, and country. But Palin shows that with abiding faith, and by opening ourselves to the truths that have saved mankind for generations, we can thrive—and experience true freedom.