Let your Light Shine, Hallelujah
In the same way, let your light shine before others, that they may see your good deeds and glorify your Father in heaven. Matthew 5:16 "Hide it under a bushel? No! I'm going to let it shine." During a certain era, every child who grew up in church sang "This Little Light of Mine, I'm Going to Let It Shine." When we sang it, our finger was the candle, our cupped hand the darkening bushel. We can recite something so often, using such familiar words, that we fail to understand its underlying meaning and then apply it to life. Here goes. People can see in us a light that magnifies our oneness with God through our words and deeds. We don't expect to be praised for any good thing we may do. Instead, we roll up our sleeves with humility and try to do more of it as we seek to honor God. Just as we would place a light on a lamp stand to illuminate a room, we should try to shine bright by our example.
Sweet Freedom in Action
Today, what bushel hides or dims your light? Pray that God helps you reflect His light, shining especially on those who are hurting.
---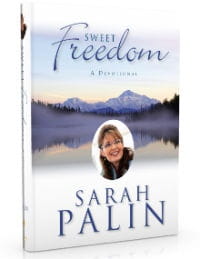 In Sweet Freedom, Sarah Palin invites you to draw strength and inspiration from 260 meditations based on guiding Biblical verses. You are not alone in your doubts and anxieties—we all bear the burdens of everyday stresses, and for most of us, our concerns spread beyond our selves to our families, communities, and country. But Palin shows that with abiding faith, and by opening ourselves to the truths that have saved mankind for generations, we can thrive—and experience true freedom.