Week 9
Giving Fears to our Father
Do not fret because of those who are evil or be envious of those who do wrong; for like the grass they will soon wither, like green plants they will soon die away. Psalm 37:1–2
As a military mom, I know that universal fear when sending a child off to a war zone. There, where unspeakable atrocities are happening, and I would have limited communication with my son, I knew I'd need supernatural assurance to counter that natural "Mama Fear." When it comes to our foreign policy, fear runs rampant today. Threats from terrorists make many tremble, and their actual acts of brutality are beyond dark and evil—they're unimaginable. For some, these are the most frightening days of their lives. Now more than ever their hope must be in the One True God. He is our security. Not knowing what tomorrow holds, we can know who holds tomorrow. Influence a frightened citizen today by pointing them to our Lord.
Sweet Freedom in Action
Today, give God every fear. Fix your eyes on God and refuse to be consumed by what's going on around you. Place your trust in God alone.
---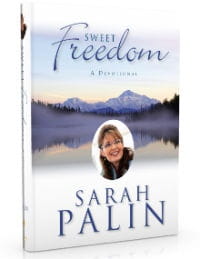 In Sweet Freedom, Sarah Palin invites you to draw strength and inspiration from 260 meditations based on guiding Biblical verses. You are not alone in your doubts and anxieties—we all bear the burdens of everyday stresses, and for most of us, our concerns spread beyond our selves to our families, communities, and country. But Palin shows that with abiding faith, and by opening ourselves to the truths that have saved mankind for generations, we can thrive—and experience true freedom.