Week 11
Accept the Challenge; Accept the Courage!
God is our refuge and strength, an ever-present help in trouble. Psalm 46:1
Gettysburg. A matchless, favorite place I've visited with family. We paid our respects and were touched when we touched the monuments and patriot graves filled with honor. In a way, you can sense the spirit there that made ordinary men do extraordinary things to make us one nation. Despite the hundred-and-fifty-year gap, you somehow feel the "mystic chords of memory" binding us to that generation whose "hearts were touched with fire." Today, some say our nation has become so corrupt that Christians should not serve our country in the military. This is a horrible notion! We can't leave the incomparably important duty of defending our nation solely to nonbelievers! We have an obligation—a moral obligation—to protect this country. Our freedoms are bought with blood, and Christians—above everyone else—should honor that sacrifice.
Sweet Freedom in Action
Today, aim to influence the next generation so they never consider abdication of our defense. Help your children and grandchildren develop courage and a love of God and country.
---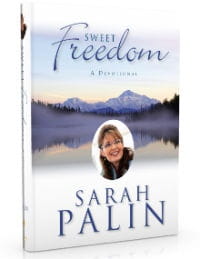 In Sweet Freedom, Sarah Palin invites you to draw strength and inspiration from 260 meditations based on guiding Biblical verses. You are not alone in your doubts and anxieties—we all bear the burdens of everyday stresses, and for most of us, our concerns spread beyond our selves to our families, communities, and country. But Palin shows that with abiding faith, and by opening ourselves to the truths that have saved mankind for generations, we can thrive—and experience true freedom.