Give that Prodigal Kid to God
I will extol the Lord at all times; his praise will always be on my lips. . . . Psalm 34:1
Are you the parent of a prodigal? Is your heart heavy watching your beloved child veer off into a culture that prefers to sweep God under the rug? You look back to better days, when you were cradling your sweet, innocent newborn. You might wonder, what went wrong? Well, don't be dismayed. Remember God's promises! When you let go of a grown child to let them make their own decisions, you might feel powerless and you might cry out to heaven in fear and worry. But thanks be to God! When our praises go up, the blessings come down. Study His promises! Know why praise can continually be in our mouth, despite any circumstances. Your situation will turn out right. However our parents raised us, at the end of the day, we and our cherished children have to learn some things on our own. No one can live our lives for us. We have to do it. You have raised your children for sweet freedom. Pray that they use their freedom to get wiser and stronger. They will come back. Plan for that celebration.
Sweet Freedom in Action
Today, remember that the thoughts God has toward you and your loved ones are of good and not evil. No matter how it looks right now, you can lean on God. Trust Him.
---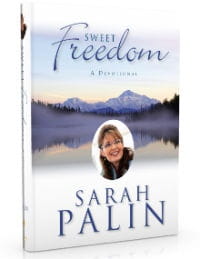 In Sweet Freedom, Sarah Palin invites you to draw strength and inspiration from 260 meditations based on guiding Biblical verses. You are not alone in your doubts and anxieties—we all bear the burdens of everyday stresses, and for most of us, our concerns spread beyond our selves to our families, communities, and country. But Palin shows that with abiding faith, and by opening ourselves to the truths that have saved mankind for generations, we can thrive—and experience true freedom.