Week 44
Dog Eat Dog
Finally, all of you, be like-minded, be sympathetic, love one another, be compassionate and humble. 1 Peter 3:8
We live in a dog-eat-dog world, where people feel the need to get ahead by any means necessary. When we tell our competition to "break a leg," we might actually mean it. When our opponent says, "Bite me," we just might. Think Nancy Kerrigan and Tonya Harding. Or, more literally, Evander Holyfield and Mike Tyson. You get the idea.
The antithesis of this "me first" spirit can be found in charitable organizations that help those in need. In 2009, this spirit was present when five women from Texas read a book by their fellow Texan Marcus Luttrell. After reading the bestselling book Lone Survivor, they felt they should do something to give back to soldiers and their families. They created a non- profit organization called the Boot Campaign and got celebrities like Dwayne Johnson, Garth Brooks, Dolly Parton, and the cast of Sons of Anarchy to be photographed wearing combat boots.
Their motto? Walk a mile in their shoes. The organization—whose goal is to "awaken the patriot in all of us"—now gives more than $2 mil- lion to the military community each year. I wear their dog tag–inspired necklace on TV and love it when it's recognized. The group's selflessness is an inspiration.
Sweet Freedom in Action
Today, perform an act of charity for someone in your family or your community. Be the inspiration.
---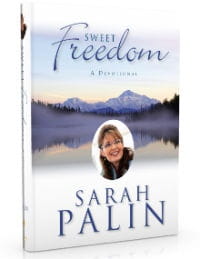 In Sweet Freedom, Sarah Palin invites you to draw strength and inspiration from 260 meditations based on guiding Biblical verses. You are not alone in your doubts and anxieties—we all bear the burdens of everyday stresses, and for most of us, our concerns spread beyond our selves to our families, communities, and country. But Palin shows that with abiding faith, and by opening ourselves to the truths that have saved mankind for generations, we can thrive—and experience true freedom.