Week 45
Christianity Is Not a Checklist
Come to me, all you who are weary and burdened, and I will give you rest. Take my yoke upon you and learn from me, for I am gentle and humble in heart, and you will find rest for your souls. For my yoke is easy and my burden is light. >Matthew 11:28-30
Read your Bible every day. Pray. Don't yell at the kids. Tithe 10 percent. No slang. No swag. No purple streaks in teens' hair. Do you ever feel suffocated by the things you need to do in order to be a "good person"?
The Pharisees loved to invent new rules and condemn people for not living up to their impossibly strict standards. In fact, they called their reli- gion a yoke, which is a harness for restraining oxen and making them haul around heavy things. These holier-than-thou types bragged about their holiness, how many rules they followed, and how they made their yokes even heavier.
Then Jesus came and changed everything! He rescued those who had tried and failed to be "good people." He said it was impossible to accomplish enough to earn God's love; instead, we should focus on faith and accepting God's grace. God accepts us as we are. He's not sitting in heaven with a checklist, shaking His head at us and waiting for us to get it together. He only wants us to avoid sin and stay faithful.
Sweet Freedom in Action
Today, don't get depressed or overwhelmed by the things you should be doing. Think of what Christ has already done and rest in Him.
---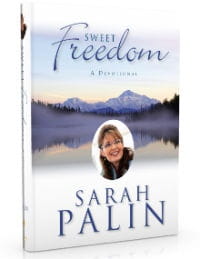 In Sweet Freedom, Sarah Palin invites you to draw strength and inspiration from 260 meditations based on guiding Biblical verses. You are not alone in your doubts and anxieties—we all bear the burdens of everyday stresses, and for most of us, our concerns spread beyond our selves to our families, communities, and country. But Palin shows that with abiding faith, and by opening ourselves to the truths that have saved mankind for generations, we can thrive—and experience true freedom.