A Prescription for Contentment
"… who think that godliness is a means to financial gain. But godliness with contentment is great gain. For we brought nothing into the world, and we can take nothing out of it. But if we have food and clothing, we will be content with that. People who want to get rich fall into temptation and a trap and into many foolish and harmful desires that plunge men into ruin and destruction. For the love of money is a root of all kinds of evil. Some people, eager for money, have wandered from the faith and pierced themselves with many griefs. But you, man of God, flee from all this." - (1 Timothy 6:5-11)
In this passage of Scripture Paul gives a profound prescription for contentment. It comes in the form of a warning about the wrong attitude toward riches.
He issues a strong warning to those who seek contentment through wealth accumulation. He is often misquoted when people say "Money is the root of all evil." Paul actually wrote that "the love of money is a root of all kinds of evil." He also warns that those who have a strong desire to be rich can fall into a trap that can ruin them and cause them to experience great grief and sorrow. Have you experienced grief and sorrow in your family because of money?
On the positive side Paul writes that godliness with contentment is great gain. He therefore challenges Timothy to pursue Godliness. If we attain godliness we can be content with as little as food and clothing. Are you a contented person? Work on your pursuit of godliness and your attitude toward riches.
I have a small plaque by the side of my bed that reads: "He who lives content with little possesses everything."
---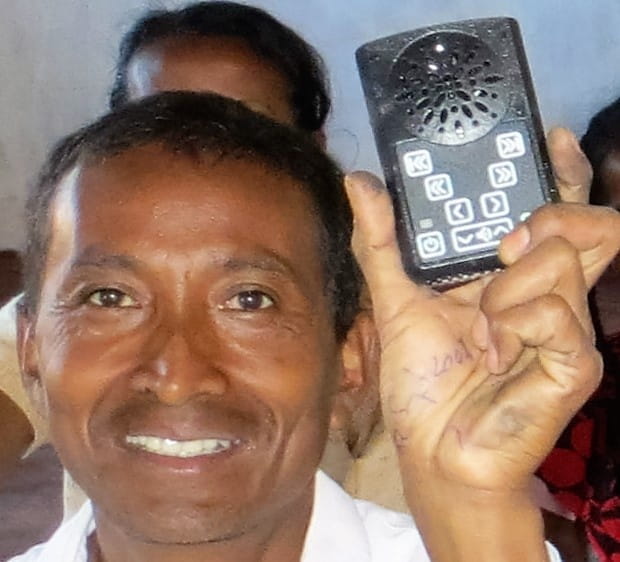 Give MBC to developing nations
Do you love The Mini Bible College by Dick Woodward? We do, too! That's why ICM has translated MBC into more than 40 languages and distributes it for free to church leaders, pastors and small groups all over the world.