December 1, 2017
In Jesus' Name
By Skip Heitzig
Some of the most important keys of communicating with God are found in John 14: "Whatever you ask in My name," Jesus said, "that I will do, that the Father may be glorified in the Son. If you ask anything in My name, I will do it" (vv. 13-14). In speaking these words, Jesus opened the possibility of prayer very wide while also balancing it with certain boundaries.
Sometimes we think that all we have to do is pray in Jesus' name, so we'll tack that on to the end of our prayers: "Oh, by the way, in Jesus' name, amen." But today I want to look at what it really means to pray in the name of Jesus. It includes two things: the broadness of prayer and the boundaries of prayer.
First is the broadness of prayer: you can ask anything of the Lord, as those verses state (see also Mark 11:24; John 15:16; 16:23-24). The point is that you shouldn't feel that anything is too insignificant to bring to God. You can come before Him regarding anything and everything in life.
He won't shut you out or say, "Sorry, Billy Graham's praying right now, so you're going to have to wait." You have access before Him at any time. As the author of Hebrews wrote, "Let us therefore come boldly to the throne of grace, that we may obtain mercy and find grace to help in time of need" (Hebrews 4:16).

Now, there's a reason Jesus opened up prayer to become so broad, and I think it centers on the term Father: you have a relationship with God as your loving Father. During Jesus' time, Judaism had become so formal and legalistic that no one would dare say, "Father God, I want to pour out my requests." So Jesus came along and reintroduced this radical concept of intimacy with the Father—of humbly bringing before Him every single thing.

That's the broadness of prayer. But then there are the boundaries of prayer: "Whatever you ask in My name, that I will do, that the Father may be glorified in the Son" (John 14:13). To pray in Jesus' name means several things: that you identify with Him, first of all, and that you speak in His authority instead of your own. But it also means that you are praying and living in a way that is in line with His character (see Exodus 34:6-7 for a description of that character), with the end goal being that the Father is glorified in the Son.
Simply put, to pray in Jesus' name is to pray according to Jesus. That's why John wrote, "Whatever we ask we receive from Him, because we keep His commandments and do those things that are pleasing in His sight" (1 John 3:22). We receive because we keep Jesus' commandments. And how do we know and keep those commandments? We read His Word. That's why it's so important to learn the Bible—so we can pray according to the will of God in the name of Jesus.

To sum it all up, we can bring anything before the Father in the name of Jesus because we identify with Him, because He has the authority, and because we live in conformity to His will in order to glorify and honor the Father. Take some time today to read His Word and get your heart and mind back on track if need be. I pray that your life and prayers would not go against Jesus' name but rather honor and uphold it, deepening your communication with Him as a result.
Copyright © 2017 by Connection Communications. All rights reserved.
For more from Skip Heitzig, visit ConnectionRadio.org,
and listen to today's broadcast of The Connection with Skip Heitzig at OnePlace.com.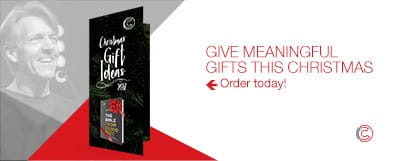 The Connect with Skip Heitzig Gift Ideas brochure is an easy way to select special Christmas gifts for everyone on your list!  We're offering all of these gifts at special, reduced prices, and all shipping in the continental U.S. is free!